Buy Philips ECG Machine online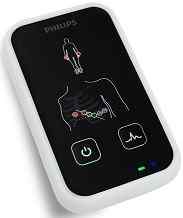 ☑ Deliver Fast ECG Reporting To A Printer
☑ Efficia ECG100 Have Wireless Reports Feature
☑ Report In Color Or Gray Scale
☑ Large Storage Capacity (Upto 1,000 ECGs Per 1GB)
☑ It Also Allows Users To Store ECG PDF Reports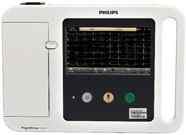 ☑ Integrated Graphical Help For Primary Functions
☑ Five Minute History Of All 12 Leads
☑ 7″ Colors TFT Resolution 800×480
☑ Easy To Use And Affordable
☑ Intuitive 1-2-3 Touchscreen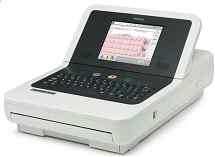 ☑ 12 Lead Color Display W/ Print Preview
☑ Internal Storage For Up To 200 Patients
☑ STEMI, Critical Values; 6 Event Markers
☑ DXL Interpretive Algorithm
☑ 6.5″ Color Touch Screen
Philips ECG Machine in Lucknow at a low cost
The Efficia ECG100 provides non-stop usage of 4 hours along with an easy-to-use, small intuitive interface (i.e less than 300 grams) and portable design. Ultra-portable and built to work with app-enabled smartphones and tablets for Android, ECG100 users can view 12-channel ECGs directly on their mobile devices. The specially-designed app offers an intuitive user interface with simple workflow, display, storage, and seamless sharing of ECG reports. The Low cost ECG functions without any infrastructure WiFi.
TC10 provides ECG storage and extended ECG storage along with choice of PDF and XML format ECG output. User can either print 12 channel ECG of in-built thermal printer (110 mm paper) or can take A4 print on PC printer (USB port for downloading ECG for print / email purpose).Philips DXL algorithm is the most advanced clinically accepted algorithms for interpretation and detection of the Culprit Artery providing you with a portable 12 channel ECG machine with built in printer.
The Philips Pagewriter TC20 integrate Philips quality and reliability to your facility within your budget price. It has got a features like: Responsive 6.5″ touch screen display, simple 1-2-3 workflow, host of connectivity along with output options such as wireless and XML. Variety of options available are: Central time management, Orders Worklist, ADT Last ECG, Interactive Query, Manual orders, Full Disclosure, Event marking, Age and gender criteria, STEMI-CA, Critical Values, LAN, Wireless LAN, Internal Storage, Bar code reader, Magnetic card reader, Smart card (IC) reader.
ECG machines are used to measure the rate and rhythm of heartbeats. ECG Machine also called as Electrocardiography machine are best used for a large variety of cardiac conditions or heart disease, such as chest pain, shortness of breath, dizziness, or fainting spells.
How to Perform an ECG Test?
The electrocardiogram (ECG or EKG) test is very easy to perform, but the interpretation of the ECG output is difficult for any normal person to understand and thus requires a technically sound person from the medical field.
Our heart is just like a two-stage electrical pump and the heart's electrical activity can be measured by placing electrodes on the skin. The electrocardiogram can also provide a report of blood flow to the heart's muscle.
To perform an ECG Test on any person, electrode placement on the person's skin is to be done as per the standard guidelines. To produce 12 electrical views of the heart, ten electrodes are required. An electrode lead also known as a patch, is placed on both the arms and legs and six are placed across the chest wall. Signals are then recorded which is received from each electrode. The print view or output of these recordings is the electrocardiogram.
We are ECG Machine authorized dealer in Lucknow. Buy Philips ECG Machine in Lucknow at a low cost . We offers affordable ecg machine price with best service support in Lucknow. Electrocardiography machine is best for heart monitoring.
More Healthcare Products We are providing for sale and service are:
CPAP
,
Bi-PAP
,
Oxygen Concentrators
,
Patient Monitors
,
Syringe Pumps