Patient Monitor in icu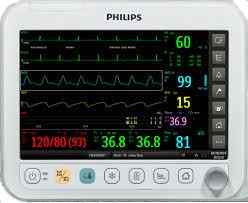 ☑ screen sizes 10″/12″ and a choice of configurations for different patient types and levels of acuity.
☑ Built-in HL7 connectivity to interface with hospital information systems
☑ cope with power supply fluctuations
☑ Easy-to-use interface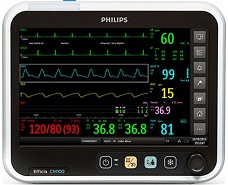 ☑ The monitors can also help you in transport situations within your facility.
☑ help you with monitoring, analyzing, recording multiple physiological parameters.
☑ Audible and visual alarm indicators
☑ Color touch wide screen with large numerics and waveforms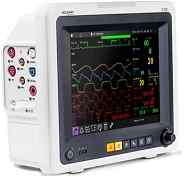 ☑ Safety standard: IEC60601-1 and Quality system: ISO9001 & IS013485 certified
☑ Parameters: ECG, HR, RESP, NIBP, SpO2, PR, 2xTEMP Optional: 2xlBP, EtCO2
☑ 10.4″ color TFT display and Maximum 8 waveforms display
☑ 600 sets NIBP including all parameters at time of measurement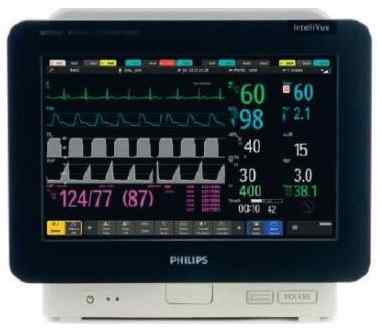 ☑ Ambient light adjustment for readability in nearly any environment
☑ Advanced Clinical Solutions to summarize and visualize data
☑ Connectivity options help you make the most of your EMR
☑ 12″-wide touchscreen helps you look clearly and quickly
☑ Portable design allows you to take monitoring with you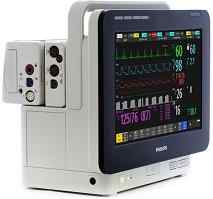 ☑ The IntelliVue MX430 combines powerful monitoring with flexible portability in one compact unit
☑ Monitoring Parameters: Ecg + Nibp + Spo2 + Temp + Ibp + Respiration
☑ USFDA Approved with one Year warranty and Service Support
☑ Monitoring Parameters: Ecg + Nibp + Spo2 + Temp + Ibp + Respiration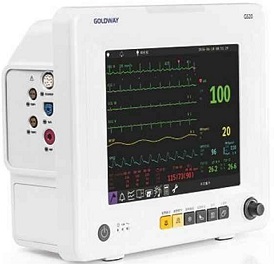 ☑ The GS20 have powerful monitoring with flexible portability in one compact unit
☑ USFDA Approved with one Year warranty and Service Support
☑ Color touch wide screen with large numerics and waveforms
☑ Easy selection of different display layouts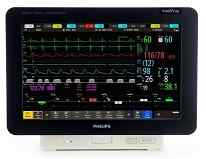 ☑ Philips Multi Measurement Module (MMS), IntelliVue X2 module, Measurement Server Extensions (MMSE)
☑ Easy data sharing results Flexible, portable workflow
☑ 15" wide touchscreen helps you see it clearly and quickly
☑ Easy selection of different display layouts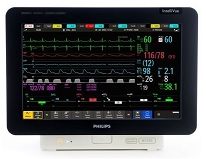 ☑ Philips MX800 is generally used in hospitals by trained healthcare professionals for monitoring, recording, and alarming of multiple physiological parameters of adults, pediatrics, and neonates.
☑ Patient data management with tabular and graphic trends
☑ 19" color LCD TFT display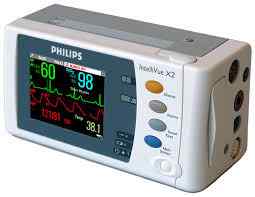 ☑ IntelliVue X2 transmits data wired or wirelessly to the IntelliVue Information Center
☑ User interface is designed to enhance patient data, making it easy to use
☑ Improved user interface for compatibility with standard software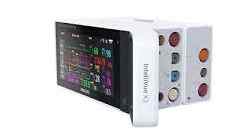 ☑ The Philips IntelliVue X3 is a compact, dual-purpose, transport patient monitor featuring intuitive smartphone-style operation and offering a scalable set of clinical measurements
☑ IntelliVue X3 helps to streamline workflow and boost efficiency by reducing the number of steps to prepare patients for transport
☑ IntelliVue X3 is as simple to operate as your smartphone

Patient Monitoring system in Lucknow
Using Efficia CM patient monitors, It's sure that you are delivering efficient, quality care and best what patient needs. The functionality and innovation you expect from Philips, and the performance quality you can trust.
Philips Efficia patient monitoring system is the best solution when budget and quality matters. We offer range of Best Quality Patient Monitoring system online to fulfil needs. Efficia Patient monitor in ICU has built-in HL7 connectivity to interface with hospital information systems. The Philips patient monitor Efficia CM Series helps you to monitor, analyze, record and alarming of multiple physiological parameters for adult, paediatric, and neonatal patients. The monitors can also help you in transport situations within your facility. The Efficia CM100, CM120, and CM150 patient monitors provides you with information on ECG, basic arrhythmia, ST analysis, SpO2 (Philips FAST SpO2 or Masimo SET), non-invasive blood pressure, dual temperature, and impedance respiration.
The Efficia Patient Monitor System can also help you measure:
☑ Dual invasive blood pressure
☑ Cardiac output (CM120 and CM150)
☑ Microstream or mainstream CO2
☑ 12-lead ECG (CM120 and CM150)
☑ Enhanced arrhythmia analysis
☑ Masimo rainbow
Goldway Patient Monitors make it easy to support a wide range of patient acuity levels. Goldway Monitors have feature of monitoring vital signs, invasive blood pressure and cardiac parameters. These adaptable systems provides much needed efficiency. As per Philips quality standards, Goldway patient monitoring systems offer best-in-class measurement capabilities in a compact and cost-effective monitor.
G30E/40E is built as per Philips exacting quality standards and provides necessary parameters in a compact design. The alarm latch function helps to form a silent care environment. G30E and G40E patient monitors are compatible with Philips consumables, which can also be used on Philips Efficia CM series monitors. This is ideal for low budgets solutions for patients by sharing of Philips consumables across different care settings.
G30E or G40E due its lightweight design, can be easily mounted on a roll stand and moved easily from bed to bed. An easy network can be created with G30E or G40E with a bidirectional communication with Philips Efficia CMS200 Central Monitoring System or require data output in HL7 format. A local network system can easily be formed up to 32 bedside monitors to overview waveform, measurement results and alarm information without a central monitoring system, offering customer without budget for a central monitoring system an alternative solution for remote monitoring.
G30E and G40E monitors delivers continous data about cardiac and respiratory conditions of a patient. In addition to basic monitoring parameters, such as Philips ST/AR 3/5 lead ECG/ RESP, NBP, 2*TEMP, and Philips SpO2 /PR, ST and arrhythmia monitoring, as well as 2-channels invasive blood pressure and microstream ETCO2 monitoring as options. The G40E features an option for thermo dilution cardiac output – the gold standard for measuring cardiac efficiency.
The Philips IntelliVue patient monitors provides high quality information about your patients. It delivers IntelliVue monitoring power and functionality in a compact size. Wired and wireless networking feature provides data stream with no lacking. Apart from this it's touchscreen feature make it easy to use.
The Philips IntelliVue patient monitors offers a Patient monitoring system for recording, alarms generation, multiple physiological parameters in health care facilities. optimized for the surgical, cardiac, medical and neonatal care environments. It combines two important features into one as patient surveillance and data management.
Patient monitors are used to measure, record, distribute and display combinations of biometric data such as heart rate, blood pressure, SPO2 and temperature. We are efficia CM , Goldway and intellivue Monitors authorized dealer and service provider in Lucknow. We are patient monitor authorized dealer in Lucknow. We also provide Quality service for patient monitor in Lucknow.Buy Best Quality Patient Monitoring System in Lucknow. Best Quality patient monitor in icu. Best Patient Monitor System in Lucknow. We also provide top quality
Patient Monitoring System in Uttar Pradesh
at a low cost. Apart from Patient Monitors we also Deals with other Products Like:
CPAP
,
Bi-PAP
,
Oxygen Concentrators
,
ECG Machines
,
Syringe Pumps
These Products are used in hospitals and clinics to ensure a high-level of quality patient care.