Oxygen Concentrator on rent in Lucknow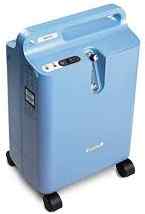 ☑ OPI(oxygen percentage indicator) alarm
☑ Storage/transport humidity -30°F to 160°F up to 95%
☑ Operating altitude 0 to 7500 (0 to 2,286 m)
☑ Average power consumption 350 watts
☑ Sound level 45 dBA typical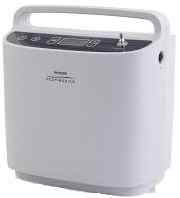 ☑ Long-life compressor for long-lasting care
☑ Large oxygen output for all patient needs
☑ Warranty and service programs that fit your business
☑ Oversized cart wheels for smooth mobility
☑ Intuitive control panel is easy to read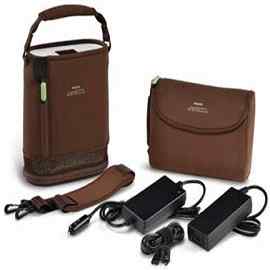 ☑ Light weight, attractive features, and true reliable
☑ Eliminate recurring oxygen delivery costs and cylinder hassles
☑ Ease inventory management
☑ Reduce maintenance costs
☑ Minimize patient calls
Buy oxygen concentrator online in Lucknow at a low cost
The Oxygen Concentrator Everflo is intended to provide supplemental oxygen to the patient requiring oxygen therapy. The device takes surrounding air (ambient air) as input and produces concentrated oxygen as output after purifying it. An oxygen concentrator concentrates the oxygen from a gas supply by selectively removing nitrogen.
Philips Respironics Everflo Oxygen Concentrator is designed with fewer parts in comparison with other concentrators, resulting in lower overall maintenance costs. This oxygen Machine has just two filters. No special skills or tools required in changing the external filter and also the internal small disk filter is just checked throughout routine maintenance procedures.
These portable concentrators typically plugged into an A.C source to use. It may also be operated via an internal battery or external battery away from home and during a power cut or fluctuations. It can also be plugged into the DC outlet of a vehicle for use.
The Philips Respironics Everflo Oxygen Concentrator is FDA approved, to be used on commercial airlines and thus can easily get passed through security checks on the airport. Philips Oxygen machines are advantageous in military or disaster situations, in comparison with oxygen tanks, which may be very dangerous or unfeasible. Its Compact design and only 31 pounds weight is highly appreciable by patients as it gets fit right into the home or Car front back and trunk.
Philips Oxygen Concentrator Everflo is now available With no cost EMI upto 12 months
SimplyGo Portable oxygen concentrator
is a new breed of the portable oxygen concentrator with combined features of continuous flow and pulse-dose delivery in a single device. A portable oxygen machine weighs only 10 pounds, which is comparatively 33% of Oxygen concentrator everflo weight. With SimplyGo, you have got an alternative of two, three, or five-year warranties. While some portable oxygen concentrator should bring to the manufacturer for service, our technicians can perform Servicing of your SimplyGo oxygen concentrator at your place, if you prefer. When you place a Portable oxygen machine with a patient, you wish to understand that it's aiming to have the responsibility and ruggedness to help your business to grow. SimplyGo portable oxygen concentrator has a long-life compressor for long-lasting care.
SimplyGo oxygen concentrator has more than twice the oxygen output of any portable oxygen concentrator having weight 10 pounds or less. That simply means SimplyGo portable oxygen concentrator is suitable for large oxygen output for all patient needs.
The SimplyGo Mini Portable oxygen concentrator
is designed in a sleek style offering light weight, advanced and attractive features and true reliability to patient to meet their current demands.
The SimplyGo Mini Portable oxygen Machine can deliver oxygen upto 9 hours per day continously. SimplyGo Mini is the smallest and lightest Portable Oxygen Concentrator among all model till now that Philips Respironics has ever developed. This is FAA Approved that means it can be carried on planes and with no problem at security checks.
It's Accessories includes: Stylish carrying case, Accessory Bag, AC power supply, DC power supply, standard or extended life lithium ion battery and Standard 3 years warranty.
We are the Philips oxygen machine authorized dealer and service provider in Lucknow. Buy oxygen concentrator online in Lucknow at a low cost. Best portable oxygen machine price in Lucknow. We also provide an oxygen machine on rent for a home in Lucknow. We provide medical equipments on rent in Lucknow at suitable rate. We provide oxygen concentrator machine on rent at affordable rate in Lucknow. You can
buy oxygen concentrator in delhi
at a Low cost. We provide CPAP machine on rent too. We also provide Philips Bipap machine on rent.
Now SimplyGo portable oxygen concentrator is available at suitable price in Lucknow
with no cost EMI up to 12 months.